Apple's latest earnings results handily beat Wall street estimates.
This is in contrast to many predictions of a major slowdown in iPhone sales which account for 63% of total revenue.
While recent events have led to a temporary retraction, I believe that the last quarter's earning showing continued growth has relieved some of the negative pressure on the stock, and recent news of holiday sales will only add to this.
Recap
Elsewhere, I have provided a recap of the quarterly earnings.
December Quarter
For some, the more important element was the outlook for the upcoming quarter. The company guided for revenue between $75.5 billion and $77.5 billion, which is in line with analysts' estimates.
The big point here is that this posits continued revenue growth, although modest, over last year's $74.6 billion.
This is significant because a prevailing fear among investors has been that last year's surge in iPhone sales was so large, that it could not be met this year, and that sales would actually fall.
Last year Apple introduced the iPhone 6, slightly larger than its predecessor, and the iPhone 6 Plus which is very much larger. Both were in reaction to the larger smartphones, or phablets, that have been stealing market share for several years.
The argument went that the large jump in sales was do to the introduction of the new models and that the level of sales could not be sustained. For the last three quarters, critics have been harping on this in spite of the fact that yoy sales growth has been exceptional. Still, the big comparison would be for the upcoming December quarter.
On October 22, investors.com reported:
The pullback in Apple's shares recently indicates that investors no longer expect year-over-year iPhone unit sales growth in the December quarter, Caso said.
Just last week, the Financial Times wrote:
Fears grow that sales might see year-on-year drop for first time.

"Sentiment on Apple is a-changin'," wrote analysts at Berenberg in a recent note. "Momentum and fast money funds are exiting the stock on negative revision potential as speculation around declining iPhone volumes heightens."
As I noted in my earlier post, these fears, along with the "China sales are falling" meme, have held Apple share price back of the last year. Share price before the earnings announcement was in the $109 to $116 range, a level first crossed in November of last year.
Now these fears have been answered and Apple's shares are free to rise.
Critique(click to enlarge)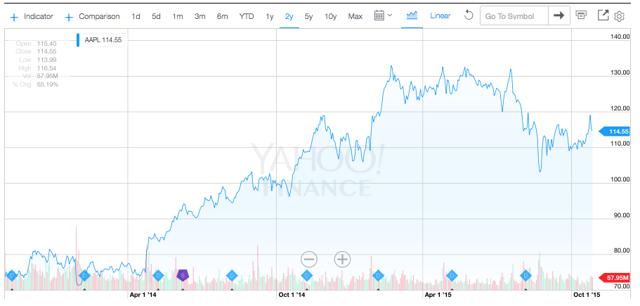 There are some who now say that the projected rise only shows that sales growth is slowing, and that the end of Apple appreciation is here. I see two flaws in this argument.
First, these are typically the same people who have urged that growth for next quarter would be negative. Yet instead of seeing Apple's current projections as positive, they move their position to continue as negative. This is a bit unfair, in my view.
The fact is, last year's December quarter increase of 46% in units, and 57% for revenue was driven by the initiation of the two larger sized phones ( the 6 and 6S) for which there was a great deal of pent up demand. Growing at all over this was seen as not likely by many.
But several factors have come to play to continue the robust sales.
To begin with, China did not have the big drop in purchases that some had feared. In fact, sales there continue to grow rapidly.
Next, most current iPhone owners have yet to upgrade. Not everyone upgrades with each new model, and so sales will continue to the current customer base over the next year (and even further).
Finally, Tim Cook reported that, aside from those purchasing their first smartphone, 30% of customers buying an iPhone were switching from an Android phone. These numbers, as well, should continue as people from this group buy iPhones.
All said, the simple fact that Apple has December estimates with any growth built in, indicates that the company sees no dire drop in unit sales.
As I noted in my previous post, the Chinese middle class will continue to grow rapidly for some time to come, and this will drive increasing iPhone sales there. Add to this worldwide refreshes in the more mature markets, and a steady stream of switchers, and there does not appear to be a real slowdown. Slowdown in the rate of growth, of course, but not a retreating sales figure.
Source of new growth
It is important to note that there are, indeed, other sources of growth. These may be more modest, but collectively they add up. I will not go into them in detail here, but list them:
Apple Watch – this is a new product with sales in the several millions per quarter (Apple is not saying just how many). There have been many reports that customers are very satisfied. Tim Cook has quoted 97% satisfied. If this is so, then it is a product that will undoubtedly expand in the future providing significant new revenues.
Macs PCs – Another positive note out of the earnings release was the record quarterly sales for Macs. As was predicted here, sales rose to a new record of 5.7 million. Undoubtedly, Apple's new push into the enterprise was a significant factor, and I expect growth to continue, perhaps even accelerate.
Services – Apple Pay and TV streaming income are also new sources of revenue. Neither is significant at this point, but their is potential for both of these to be so.
Conclusion
A look at Apple's 2 year chart shows how frequent periods of consolidation, that often last for months, are followed by sharp runs to new heights. These occur when investors are given evidence that negative commentaries have been proven wrong, and a new momentum builds.
I believe that now we have reached one of these periods. For the last five quarters Apple has exceeded its predictions, and the current one includes continued growth, however moderated, not a decrease in sales. This should give investors the confidence they need to buy into a company that is trading at a severe discount.
— Comments Appreciated —
---
---
Elegant, Handcrafted, Genuine Leather
SmartPhone Holster
Soon for iPhone 6 Plus!

Thank you!
---
————————————————————————————————————–

The Room
"Jenni Plochka?" the worn woman in a pink bathrobe read the card in a harsh, tobacco and booze voice. The blue "Vacancy" flashed through her cigarette smoke. She frowned suspiciously. "Don't get many BMWs here." "Just wanna crash. Gotta bed?" "OK. But we paintin' and wirin', so th'only room is an old one at the end." [
READ MORE…
]