Apple (AAPL) share price has been slammed recently, the price falling as low as $92.43 on Wednesday, almost matching the twelve month, intraday low of $92. In spite of the price rising back over $100 on Friday (January 22) , the question for investors is whether this downward trend will continue, if the price will remain range bound as it has for over a year, or if share prices will reverse and continue to appreciate.
Obviously, the whole question revolves around growth. Can Apple continue to grow at an investor-pleasing rate? Or will it stagnate or even see a decline in its revenue base?
I have identified three key factors in the future value of Apple stock. This article looks at one key to future stock price – Apple's traditional products, but particularly the iPhone.
The current rout has been caused by fears of dropping iPhone sales. As the iconic smartphone represents more than 60 percent of Apple's revenue (63% last quarter, 69% calendar Q1 2015) falling sales would definitely curtail overall revenue growth.
NOTE: Most of this analysis will be qualitative. I am not trying to propose any specific numbers.
But first…
Before discussing the iPhone in more detail, let's look at Apple's other feature products.
The iPod, which drove so much of Apple's growth from 2002 until about 2009, has been relegated to the "other" category since the end of 2011. This includes products such as the Apple TV, the various accessories Apple sells, including the Beats headphones. These have recently been joined by the Apple Watch which is also a mater of much speculation. The others category is examined in detail in a companion post, as part of key number 2.
The iPad has been slipping in unit sales and revenue for the past two years. The deterioration is due to both a slower growth rate among tablets as a category, and loss of market share to cheaper competitors. Still, the product continues to be viewed as best in class, and is widely preferred in the enterprise market. Apple's partnership with IBM on high end enterprise apps promises to cement this preference, and drive significant sales.
It remains to be seen if the new iPad Pro, along with the IBM project, will be able to halt he current decline. In November of last year, CNET quoted FBR analyst Daniel Ives:
"iPad Pro sales will help reverse the negative tablet trend seen over the last year, with success being found on the enterprise market and thus representing 15% of Apple's revenues (versus ~10% today),"… [source]
So it is possible that the iPad may have bottomed out this quarter in terms of year over year unit sales loss. If not, it is likely that the decline will be significantly smaller than last quarter's almost 20%.
Macs
Apple's oldest product line has defied gravity over the last few years. While PC sales overall have declined, sales of Macintosh computers continues to grow. The last four quarters – which represent Apple's fiscal year – showed a 31% unit growth over the previous fiscal year (24.6 million vs. 18.8 million). Even at last quarter's anemic 3.4% y/y growth, this would mean 5.7 million units.
Still, with continued slow sales of PCs, it's possible that we will see a decline here as well.
Enterprise
In a new move, Apple is expanding in the enterprise. An IBD post on Goldman Sachs noted:
Apple in October disclosed that its enterprise business now represents $25 billion in annual revenue, up more than 40% year over year.
This is significant, and growth is likely to continue. While the emphasis here is iPads and iPhones that are promoted via the IBM Mobile First program, Macs are also growing in the enterprise as more organizations allow their workers to select their work computer. IBM noted that it is saving money on every Mac it deploys, and Apple put a dollar figure on it:
Apple CFO Luca Maestri pointed out that IBM has been saving roughly $270 on each MacBook its employees use instead of a traditional PC, largely due to lower IT support costs and better residual value. [Source: Business Insider]
Even at a more modest 25% growth, this alone would add over $6 billion to annual sales. If growth continued at 40%, it would be $10 billion. The IBM Mobile First program is still new, and Macs are still a tiny percentage of enterprise PCs. For these two reasons, the 40% figure in not unreasonable.
Exchange rate
While Apple has been good at hedging against the rising dollar, we can expect a negative impact on overall revenue and margins.
So we see that there are several positive factors here in the traditional category. None of these are likely to move the revenue needle in a big way, but still can be significant, especially if they all move together, or one moves to a larger degree than expected. For example, suppose the Mac line were to return to a y/y 8.8% revenue growth that it saw just 2 quarters ago? The difference here would eliminate most of the negative effect of exchange rate issues. Granted these are not huge sums for Apple, but they would have a positive effect, offsetting any slowdown in iPhone sales.
The iPhone
This brings us back to the main issue for investors. The future of the iPhone.
The driving meme goes that the iPhone has reached its peak in sales. The developed nations smartphone markets are saturated, the thought goes, and growth in developing markets is limited by up and coming low price producers.
Looking at the chart from BareFigures, it's difficult at first to see why this would be. Last year's growth rate were from an astounding 46% to last quarter's growth rate that is modest only in comparison, 22%.
The thinking on Wall Street is that the reason for the enormous growth last year was the introduction of larger iPhones that served a pent up demand, and this surge cannot be replicated. Never again will Apple create a new model that will elicit such a strong response.
(click to enlarge)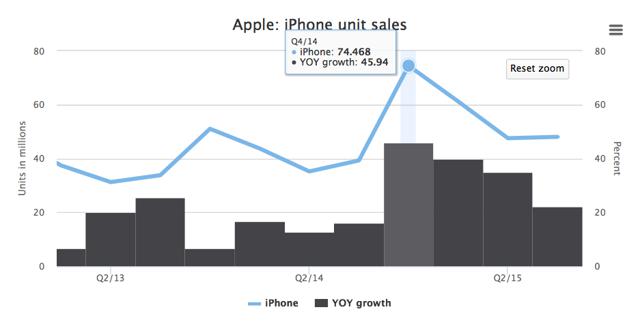 While I would never discount Apple's ability to innovate, it is quite likely that this is true, although exaggerated. For the current and future quarters, now that the new, larger designs have already been introduced, it will be hard to exceed, or even to match, the current numbers, let alone grow sales.
Add to this the fact that developed markets are indeed saturated, so sales there depend almost completely on refresh purchases. Furthermore, growth in developing markets is being met to a large degree by lower cost manufactures such as China's Xiaomi. All this runs to limit growth, and some analysts are predicting that Apple revenue will actually fall in the current year. Tavis McCourt with the firm Raymond James:
… for a FY16 total of 207 million, which is down 10% y/y, but still up ~22% over a two-year period, which is consistent with iPhone taking modest share in a smartphone market that we believe will grow 10% to 15% over that same period.
He further believes that Apple EPS will stagnate until March 2017.
To be honest – I have trouble with this logic. If the smartphone market grows 10% and Apple "takes modest share," then sales must increase by something more than 10%. While this could possibly be lost to lower prices and exchange rate, it's hard to see an actual decline. In any case, Predictions abound for reduced 2016 sales.
The stock price problem
This brings us to problem with the share price – why it has dropped and what is going to affect it after Apple's fiscal Q1 earnings announcement on Tuesday, January 26.
Oddly, few analysts expect Apple to fail to meet its own projections from the previous quarterly statement of revenue between $75.5 billion and $77.5 billion, although some think it will be closer to the lower end of that range.
The lower figure would represent a scant 1.2% increase over last year's revenue of $74.6 billion. Even the higher figure gives just a 3.8% growth, a far cry from last years 30%.
So if Apple is still growing, albeit slowly, then what is the fuss? It's all in the future projections as noted above.
The pessimism is largely based on repeated rumors regarding Apple suppliers saying that they have been called on to sharply cut supplies to the iPhone maker. This has abruptly brought down estimates of future sales, and hence the lowered earnings forecasts.
Apple's CEO Tim Cook has warned that trying to divine iPhone sales from supplier data was an error. Still, the reports have been repeated and convincing to many.
Additionally it should be noted that while analysts have cut sales and earnings projections, virtually all have bullish share price projections, with an average of roughly $141.
That said, the average rating on the stock remains the equivalent to buy, while the average stock target remains $140.70, according to a poll of roughly 40 analysts… [Source: MarketWatch]
Conclusion
So the fate of share prices is largely driven by rumors of future slow downs, fears that iPhone sales will not only cease to grow, but will actually decrease, driving revenue and earnings down.
Yet these analyses ignore several things:
In China the middle class is continuing to grow at a phenomenal rate. Additionally, LTE service is slowly expanding to hundreds of millions of users. These two factors will continue to drive high end smartphone sales in the world's largest market.
Apple has an enormous percentage of new sales coming from Android switchers. It remains to be seen if this trend will continue, but 9to5 Mac reported:
During a call with investors for its Q4 2015 earnings report today, Apple CEO Tim Cook said the company saw its highest rate ever of Android switchers last quarter with a record 30% of new iPhone buyers coming from the rival platform.
Those who upgrade on two year cycles are just coming ready to upgrade.
Clearly iPhones sales are not going to repeat enormous jump of last year. But it remains to be seen if things play out as the rumor driven analysts predict, or if we see continued growth on a more modest trajectory.
Philip Elmer-DeWitt at Fortune collects estimates from analysts, and gives an average of 76.5 million units for the December 2015 quarter.
Conclusion
Thus the sales figures for the iPhone is the first pillar of future stock price. This data point presents several possible scenarios:
A serious drop from expectations could trigger a further price tumble.
If sales are in line with expectations, the there will likely be some modest rebound as investors play the buy-the-rumor-sell-the-news game. – although this time in reverse.
If, however, there is a serious beat of the numbers, then the stock price could rise tremendously. The stock is clearly oversold as Friday's price rise shows, so any real rebuttal of the prevailing meme should trigger a large rebound. Even a modest beat of estimates could elicit a recovery.
Continued….
There are two other key factors that could determine significant moves in Apple share price. In the next article I will discuss the Two Dark Horse factors that could drive significant revenue growth.
Your comments are appreciated.