Apple (AAPL) share price has been slammed recently, falling as low as $92.43 last Wednesday, almost matching the twelve month, intraday low of $92. In spite of the price rising back over $101 on Friday (January 22), the question for investors is whether this downward trend will continue, if the price will remain range bound as it has for over a year, or if share prices will reverse and continue to appreciate.
Obviously, the whole question revolves around growth. will Apple revenue stagnate or even see a decline in its revenue base – as some have suggested?
We have identified three key factors in the future value of Apple stock. The previous article focused on iPhone sales which many see as leveling off in growth, or even declining in the current year. Since this product currently accounts for well over 60% of Apple's income, this would clearly affect performance.
The question is simple – if iPhone revenues level or decline, can anything else replace that growth?
This article looks at the second key to future stock price – what I call Apple's Dark Horse elements, the categories Apple dubs in its financial reports:
Services, and
Other Products
Note: Most of this analysis will be qualitative. I am not trying to propose any specific numbers. What number I do use are meant to be general examples representative of a range.
Revenues for the categories are highlighted in details from last quarter and fiscal Q1 of 2015 in the images below.
(click to enlarge)

(click to enlarge)

Services
Apple describes this category as including revenue from:
Internet Services,
AppleCare,
Apple Pay,
Licensing and
Other Services
The Services category generated roughly $20 billion over the last four quarters. Here there is a real chance for significant growth, and this on several fronts. It's impossible to figure out exact revenues from the individual services.
The simple ones are number 2 and 4. Apple Care should closely track unit sales of Apple devices. One would imagine that the percentage of customers who elect to buy the service would remain more or less constant, although an increase in this would be likely if enterprise customers increase proportionally.
Likewise, Licensing revenues might increase with new areas for sale, such as licensing Home Kit compatibility, but are not likely to take on a very significant role in overall revenue.
So the big three here are Internet services, Apple Pay and Other Services.
So in several year, this category could very conceivably grow 50%, adding another $10 billion to revenues. It should be noted that some of these categories are likely to have very high profit margins. Most of them have high initiation costs that do not go up substantially per number of users. Obviously, subscription services that pay royalties such as Apple Music will have certain costs that grow with usage, but even here, development and delivery costs will be relatively fixed.
What to look for this quarter:
I would to expect too much increase in this quarter's revenue as thee new programs are just getting started. But I would expect a significant bump from the roughly 10% y/y increases of the last 4 quarters. So I would regard anything over $5.4B as promising, and anything over $5.6 as validating my premise here.
Dark Horse #2 – Other Products category
This category includes:
Apple TV,
Apple Watch,
Beats products,
iPod, and
Apple-branded and third-party accessories.
As with Apple's main product lines, it sees regular seasonal fluctuations. Fiscal year 2012 saw y/y increases as the iPod was added in FQ1. Since then sales have been relatively flat, but have picked up substantially in the last two quarters, most likely do to increased Apple TV sales, and the new Apple Watch.
(click to enlarge)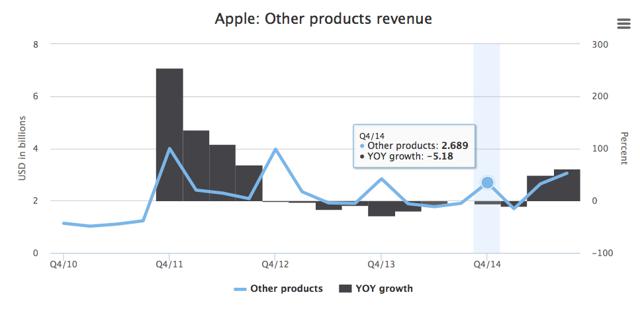 [barefigur.es – note: calendar quarters]
As we can see, last year's FQ1 showed $2.7 billion for the category, with a -5% growth.
The iPod is probably continuing its slow decline, although most people would be happy to own that business. The music player, Beats and other accessories probably continue to add more or less the same core revenue as the last two FQ1 quarters – or about $2 billion.
The Apple TV should be ramping revenue as sales are increasing, although it is still not that great. The new 4th generation model, however, comes with a significantly higher price tag. It was very popular during the holidays and should provide a significant bump in sales. While we know little of quarterly sales, Tim Cook said in the FYQ1-2013 earnings call that Apple had sold over 2 million Apple TV units in the December quarter. Given recent growth in Apple, wow features of the new generation 4 unit, and reports that it was high on interest lists on the web, a rough figure of 4 million would be reasonable. With a 40/60 split between gen 3 and gen 4 units (and virtually none of the higher priced gen 4 model) we get an ASP of roughly $125, for total sales of $500 million.
Apple Watch.
As noted above, last year's FQ1 showed $2.7 billion for the category, with a -5% y/y growth. The last two quarters have seen large growth of 50 and 60 percent, which was probably completely do to the Apple Watch.
While other services and products listed will contribute to the bottom line to one degree or another, this is the product that will contribute the most. In the September 2015 quarter it probably contributed $1.15 billion (based on growth from precious year). This assumes that greater sales for some products balanced the decline in iPods. If ASP is $450 (I really do not see a case for just $400) then that would be sales of 2.56 million units.
I think one can make a case for Apple doubling sales in the Christmas quarter. Not only is it a new product, but it got a lot of attention with major retailers discounting it heavily in the weekend after Thanksgiving. This would give us sales of roughly 5.1 million which is lower than Fortune's analyst average of 5.8 (range of 3.1 to 10.0). If we stick with my probably conservative figure, but up the ASP to $500 (this allows for extra bands and the Christmas tendency to splurge a bit) then we arrive at a figure of $2.55 billion.
This number is relatively conservative. Analyst Horace Dediu predicts 8 million or more, although with ASP of just $400. That still has the device pitching $3.2 billion into Apple's coffers.
Add to this last year's figure for the category, $2.7 billion, and we have a target of $5.25 billion. Anything significantly above this would indicate exceptional sales of the Apple Watch. With Dediu's numbers, we would have close to $6 billion.
What is the future of Apple Watch?
This indeed is a big question for the results on Tuesday. Anything much less than $5 billion would indicate that the watch is having a slower adoption rate than expected, and would lend weight to a slow growth story for the company as a whole. But a robust sale of $5.5 or higher would indicate a healthy growth path for the product.
IDC estimates more than 88 million smartwatches will be sold in 2019, and that currently Apple has a 58% share. If that were to drop to just 40% (as cheap Android Wear models gain traction) then that would still be 35 million units bringing in almost $18 billion in new revenue. If this figure proves conservative, we could easily see $20 – $25 billion annual revenue, and potentially even more. Of course this is not for another two or three years.
Conclusion
The point here is that Apple detractors have ignored likely growth areas when focusing in on slowing iPhone sales. Clearly such sales cannot continue to increase at 40% – or even 25% – forever.
However, $20 billion in new watch sales would make up for 30 million lost iPhone sales. Since no one is predicting this kind of sales retraction, the figure, or at least some portion thereof, will fuel growth. With another potential for $10 billion, we see that even if iPhone sales do stagnate, we still have room for modest growth over the next few years.
Continued….
There is one more key factor that definitely will effect significant moves in Apple share price. In the next article I will discuss the how Apple's forecast will be a major driver of share price.